Suburbs of Surveillance
Law enforcement officials are encouraging private homeowners' associations to install license plate reader cameras from startup Flock Safety. But are they really keeping neighborhoods safer?
By Sarah Holder and Fola Akinnibi August 4, 2021, 7:00 AM EDT

Sarah Holder is a writer for CityLab in San Francisco, focused on urban politics, housing, and work.@sarahsholder
One day last April, a homeowner's association board in Vacaville, California, convened a Zoom meeting to vote on a new way to automate their neighborhood watch.
The community, located in the Sacramento Valley, already had an active page on the online platform Nextdoor, where residents swapped information on missing packages and mysterious loud booms, and all Vacaville residents had the option of registering their private video surveillance systems like Ring doorbells with the police department to help them follow up on leads.
But the board's then-vice president, Adam Senf, was also a patrol officer for the Vacaville Police Department, and his then-boss, the city's former police chief, had recommended that the association check out another technology to add to the eyes on the street: license plate readers.
Law enforcement agencies have long used license plate readers to track traffic patterns, aid in investigations and check vehicle registrations. Now that technology is in the hands of individuals. It's gotten an upgrade in recent years by Flock Safety, a startup that has developed a cheaper, artificial intelligence-powered version of the machines that gives neighbors a searchable, 24/7 view of vehicles that drive their streets.
Local police rely on private communities and homeowners' associations to install the Flock license plate readers and share the data they collect. And to sell more devices to those coveted private clients, Flock relies on the help of the police. Documents obtained by Bloomberg CityLab through public records requests reveal how those relationships were fostered in Vacaville and elsewhere. In police stations across the U.S., law enforcement officials have played a starring role in endorsing Flock and creating consumer demand, seeing the cameras as a way to fight crime in their communities. Flock's approach mirrors ones employed by other companies in the neighborhood watch space, like Amazon Ring and Nextdoor.
"Built into the marketing strategy of this company is a wink and a nod saying: Police, if you help us market this device to consumers, you will get a perk," said Matthew Guariglia, a policy analyst for the Electronic Frontier Foundation who has done research on Flock. "That perk being more surveillance that you would not have access to otherwise."
Correspondence shows that after encouragement from Senf, the police officer, his homeowners' association eventually moved forward with the purchase of four Flock cameras. Additionally, the homeowners' association of the city's then-police chief bought six of its own. And by December 2020, the police department had also signed a deal to pay $23,560 for a one-year contract with the company, to equip its existing cameras with Flock technology.
A Public-Private Partnership
At first, Senf worried members of the neighborhood group were "not as excited" as he was about the readers, according to February 2020 emails between the officer and Flock Chief Executive Officer and founder Garrett Langley. So Senf asked the CEO for talking points and literature from the company to firm up his pitch to the community.
By April 2020, the homeowners' association board voted unanimously to move forward with the plan, and Senf worked with a Flock sales manager to try to connect with more local neighborhoods that might want to adopt cameras. The department could help Flock to distribute pamphlets and media to "businesses, apartment complexes and neighborhood groups," he suggested in an email.
"I think this is a great opportunity to start an in-depth public/private partnership with these groups and expand our crime fighting coverage with License Plate Reading cameras." The department was happy with its current readers, Senf wrote — though it would be better to have more and to find opportunities "where the private entities can provide the funding and equipment for us."
Flock would add a sweetener to the deal, Senf added, in a note to the department's communications manager: For every five groups that installed a camera, the company would gift the department one device, he said. Senf told Bloomberg CityLab that though free cameras were originally pitched as an option, it did not end up being part of their contract; Langley says Flock has never paid or given free Flock products to police officers in exchange for their marketing help.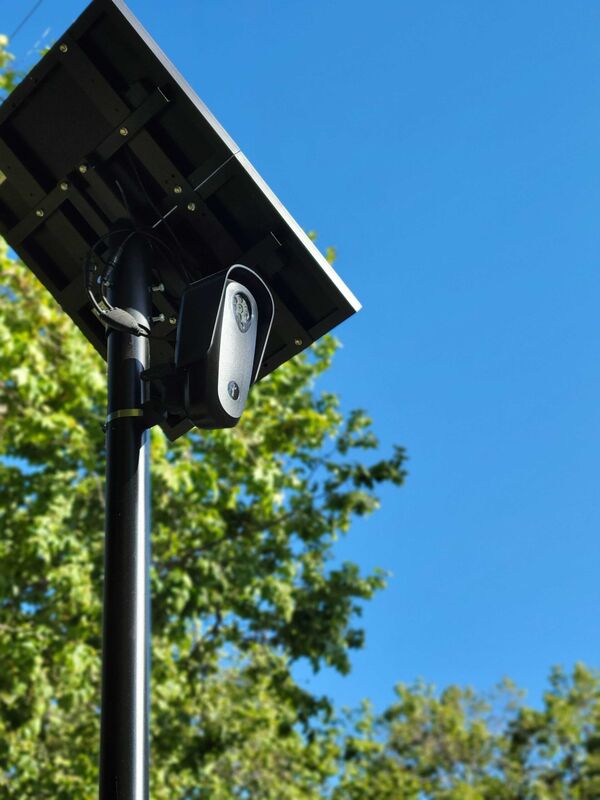 Less than a year later, the company would use Vacaville as part of a pitch to other communities. In February 2021, the company sent over a draft presentation to a police department 28 miles south that included case studies from Vacaville, along with a positive quote from Senf, according to records uploaded onto Muckrock.com. Flock and Benicia police department officials planned to show it to HOAs, neighborhoods, neighborhood watch groups and businesses before going to the city council to greenlight a contract.
"Goals are twofold," wrote a Flock representative, to Benicia lieutenants. "1. Engage the community so Benicia PD's project will be approved when it goes to Council 2. Gain support with HOA's, Neighborhoods, and Business and plant the seed for them to fill in the gaps within their communities."
The Hot List
Essentially an Android phone with a high definition camera strapped to a pole, each small Flock device costs about $2,500 a year. The readers focus narrowly on the street and snap pictures day and night, storing images of vehicles for 30 days.
Boasting rapid growth during the pandemic, Flock has captured photos of more than a billion vehicles in more than 1,200 U.S. cities across 40 states, and installed cameras in thousands of homeowners' associations. The company raised $150 million in a July funding round led by Andreessen Horowitz, with a stated goal of reducing crime in America by 25% over the next three years by deterring and solving cases. There are no plans to rest at 25% — Flock's mission is to "eliminate crime" entirely.
Law enforcement agencies tout the devices because they allow departments to search thousands of plates quickly and efficiently, and track suspects across several jurisdictions. When the reader captures a plate, AI technology matches the number to federal, state or custom "hot lists" — databases of cars that have been flagged by authorities. Law enforcement officials get email and text notifications if a car matches the database; departments can also create their own custom lists of cars to track them according to plate or vehicle type, and dip into the broader repository of Flock-captured images if they're looking for a particular vehicle.
Private users don't get those kinds of alerts, but anyone with access to the system can search the database for vehicles by using the company's AI search function, which can filter by vehicle characteristics like make, model and color, or time of day. The majority of neighborhoods choose to feed their images and database directly to their local police, hoping it will help cops follow up on tips.
"You know the most common request we get? People want to know if they can watch the footage."
But even communities that choose not to formally partner with law enforcement can still selectively send evidence to local officials. One of them is the Hamptons Homeowners Association in the North Natomas community of Sacramento County, California, which installed nine cameras this year, covering every route in and out of the HOA's boundaries. They pay about $18,000 a year for the cameras, on top of the nearly $3,500 they pay a month for private security guards.
The community wasn't focused on violent crime, though. It was looking for so-called porch pirates who steal packages from doorsteps, and people driving recklessly. One person doing donuts in the neighborhood had his truck impounded by the Sacramento Police Department after a complaint backed up by Flock evidence, said the president of the neighborhood group, Ed Perez.
Perez says that he and two other people from their property management company are the only ones with access to the devices and their logs. Residents and other impacted parties can submit requests to look at the snapshots in the event of a crime. The board then votes on whether to follow up on the query, and later, whether to forward the information they glean to the police.
"You know the most common request we get? People want to know if they can watch the footage," Perez said. "And we have to tell them, no, no, no."
While Perez's HOA has set rules about who has access to Flock's images, placing the ability to watch a whole neighborhood in the hands of private citizens presents clear opportunities for abuse: nosy residents checking neighbors' comings and goings, or a spurned lover keeping watch. Flock insists that every search query needs a valid justification, but relies on the honor system to enforce the rule.
This worries privacy and civil liberties advocates, who warn that this is the latest way individuals are trading away their — and potentially their neighbors' — personal information. On top of that, outsourcing vehicle tracking to neighborhoods allows law enforcement to increase its eyes on the street while dodging public regulations and budgetary restrictions. Concentrating these tools in homeowners' associations, which already tend to be in neighborhoods that are wealthier and less racially diverse than surrounding metro areas, could compound inequities in policing, putting police at the beck and call of more privileged residents, while contributing to over-policing in other neighborhoods.
"We tend to know that people make really bad decisions and we as a society tend to make bad decisions when we're afraid," said Evan Greer, the deputy director of Fight for the Future, a non-profit that advocates for digital rights and against surveillance. "When we have an industry that only makes money when people are afraid, there are some real fundamental issues that need to be addressed."
A Crime-Free Future?
Flock sells itself as an easy solution to crime, which has proved a compelling message as many cities across the U.S. have faced an uptick in some crime categories since the Covid pandemic began. Although Flock's marketing materials say the company's technology is meant to stop crime before it happens, law enforcement experts say that license plate reader technology is typically used to aid investigations after the fact.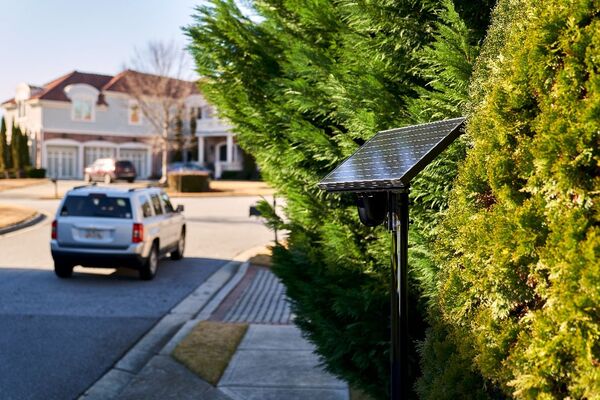 In California, the 15 biggest data collecting law enforcement agencies conducted 1.4 billion license plate scans between 2018 and 2019, according to the Electronic Frontier Foundation. Of those scans, 0.05% produced a hit on a "hot list" of plates managed by state or local agencies to flag cars that may be associated with a crime, have expired tags or are otherwise of interest. Pinging a hot list does not mean a crime was committed, just that a plate match was identified, and an even smaller fraction of those hits lead to an arrest or conviction.
Additionally, anywhere between 1% and 10% of license plate hits are misreads, depending on the system, says Mike Sena, the executive director of the Northern California Regional Intelligence Center, which pools license plate reader data for law enforcement agencies based in the region.
Advocates for automated license plate reader technology have argued that it can help reduce unnecessary pretext stops — a strategy in which police pull over cars for minor vehicle violations to fish for contraband — in favor of more informed investigations. But combined with human biases, the license plate readers have already led to dangerous encounters with police.
In November 2018, Brian Hofer and his brother were pulled over and held at gunpoint by sheriffs in the San Francisco Bay area based on a ping from an outdated hot list. They were driving a Getaround rental car that had previously been stolen and since recovered. Just this year, Oakland resident Zach Norris, a Black racial justice advocate, experienced a similar incident: While taking a hike with his family, someone swapped out his car's original plates for ones that had been involved in a recent armed robbery. Local police got a hit for the plates, pulled him over and handcuffed him, before realizing their mistake. (Neither camera involved was a Flock camera.)
Still, Flock uses police departments and its own marketing materials to advertise arrests and police actions taken as a result of the technology, claiming to be behind a 70% crime reduction across the cities it operates in. One case study on the company's website describes the technology being used to capture a burglary suspect who allegedly broke into a retail store and stole two cell phones outside of Birmingham, Alabama. The vehicle was caught by Flock readers as it left the scene and the suspect was arrested a month later, according to the company.

Langley said he doesn't know how many readers are necessary to bring about the crime-free future he's imagined. He thinks there's still plenty of room for growth and wants to expand Flock's services to include capturing audio feeds, and even sensing the presence of pedestrians.
Marketing presentations and case studies from other cities show that Flock advertises murder suspects captured, lost children found and burglars foiled, but it isn't clear what role the technology played in the process or whether a person was arrested and convicted. Flock doesn't release information on its hit rate or offer a breakdown of how homeowners' associations use the cameras.
'Got Your Plate'
In Dayton, Ohio, where the city police department did a trial of Flock in 2020, the company touted statistics from the police department that say crime decreased 43% in a neighborhood where the readers were installed. However, the statistics don't account for the fact that part of 2020 included pandemic lockdowns that confined many to their homes.
Complicating matters further was the community pushback over the installation of the readers. Flock loaned the Dayton Police Department 29 readers for a free six-month trial and installed them around the city's Twin Towers neighborhood, which serves as a center for the city's immigrant community.
Many in the community were only made aware of the Flock cameras when an article about the pilot program was published in a local paper. That left them wondering why they were necessary, according to Katie Kersh, a senior attorney with Advocates for Basic Legal Equality, a non-profit legal services organization that represented the community group Latinos Unidos in a push to get the cameras removed.
Dayton's trial run ended unceremoniously in August 2020, in part because of the pressure from Latinos Unidos, according to emails written to Flock by the Dayton Police Department. The example is part of a broader trend, reflecting "growing momentum by privacy advocates that say, we don't want these in our communities," said Adam Schwartz, a Senior Staff Attorney for the Electronic Frontier Foundation.
The community push for more transparency and accountability culminated with a May ordinance that requires citizen notification and review of the implementation of any surveillance tools in the city. Now, if the police department wants to purchase or use any new surveillance technology, or expand the scope of its existing tools, there has to be a public review and comment period, clear guidelines and regulations for its implementation, data reporting metrics and annual filings on its use. Dayton police received a federal grant to purchase the license plate readers after the trial period, but given the ordinance, those plans are on hold.
In Nashville, where fixed license plate readers in public right of ways are already banned, the city council chose to increase police spending and is taking steps to allow automated license plate readers this year.
Flock has managed to expand into Nashville despite the ban, and may stay regardless of the results of the debate over its future. Last year, members of the Haynes Park Neighborhood Association, a predominantly Black neighborhood in Nashville, raised money to buy two of their own Flock cameras in response to nearby shootings.
"Safety is always going to be our number one priority," said Gina Coleman, a community activist and one of the co-founders of the neighborhood association. She believes the cameras act as a deterrent. "We know it can't stop [crime], but at least it can let people know when you come in: We've got your plate."
Source: https://www.bloomberg.com/news/features/2021-08-02/how-to-build-a-water-smart-city